Hashtags are perfect for enhancing your social media content's visibility. You can use 30 hashtags on an Instagram post or up to 10 hashtags on a Story. But research from Hootsuite suggests:
When using hashtags with LinkedIn posts @SocialMediaToday said after speaking with LinkedIn the aim is three and to utilize both broad and niched for the best reach.
When exploring other platforms like Facebook or Twitter, I recommend you use 1 – 2 hashtags for best engagement.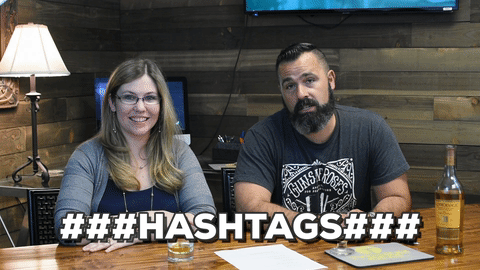 The most popular hashtags on Instagram are not always the best for maximizing your post's reach. Consider using a hashtag that has between 15,000 and 1 million posts in order to increase the visibility of the content you share!
Now Let's Review June Hashtags
#adoptacat
#bestfriendsday
#blackculture
#blackexcellence
#blacklivesmatter
#blm
#chocolateicecreamday
#classof2022
#dday
#doughnutday
#endoftheschoolyear
#fathersday
#fathersday2022
#fathersdaycelebration
#fathersdayweekend
#fatherslove
#freedom
#gaypride
#grad2022
#graduate
#graduation
#graduation2022
#graduationcelebration
#graduationday
#graduationparty
#graduationseason
#graduationtime
#greatoutdoors
#happybirthdayAudra
#happyfathersday
#happyfathersday2022
#happygraduation
#happyjune
#happyjuneteenth
#happysummer
#hellojune
#hellosummer
#hugyourcatday
#ilovemydad
#infertilityawareness
#junechallenge
#juneflowers
#junegoals
#juneteenth
#juneteenth2022
#juneteenthcelebration
#junevibes
#lastdayofschool
#lgbtq
#loveislove
#lovesummer
#loveyoudad
#menshealth
#menshealthawareness
#menshealthmatters
#menshealthmonth
#menshealthweek
#mensmentalhealth
#mydadisthebest
#nationalbourbonday
#nationalcheeseday
#nationalchildrensday
#nationalflagday
#nationalflipflopday
#nationalicedteaday
#nationalpinkday
#nationalroséday
#nationalrunningday
#petappreciation
#picnicday
#pride
#pride2022
#pridemonth
#pridemonth2022
#schoolsout
#schoolsoutforsummer
#schoolsoutforthesummer
#socialmediaday
#summer
#summer2022
#summerday
#summerdays
#summerfeeling
#summerishere
#summersolstice
#summertime
#summervacation
#summervacation2022
#summervacay2022
#summervibes
#summerweather
#takeyourdogtoworkday
#vacation2022
#vacationmode
#vacationtime
#vacationvibes
#welcomejune
#worldbicycleday
#worldblooddonorday
#worldenvironmentday
#worldmusicday
#worldoceansday
#worldrefugeeday
Your Go-To List of Hashtags
When compiling your list of hashtags to use for a social media post, remember to incorporate daily hashtags.
Daily hashtags are very popular, and you use them on specific days of the week.
Below are some of the most popular daily hashtags for social media.
For a complete list of daily hashtags, check out our infographic here: Hashtags every day.
SUNDAY
#SundayFunday
#HappySunday
#WeekendVibes
MONDAY
#MondayMotivation
#MondayQuotes
#MondayMantra
TUESDAY
#TuesdayMotivation
#TuesdayThoughts
#TacoTuesday
WEDNESDAY
#WednesdayMotivation
#WednesdayMorning
#HappyHumpDay
THURSDAY
#ThursdayQuotes
#ThursdayMotivation
#ThrowbackThursday
FRIDAY
#TGIF
#HappyFriday
#FlashbackFriday
SATURDAY
#HappySaturday
#SaturdayNight
#SmallBusinessSaturday
#Startup
Here are June's Holiday Hashtags
You may be thinking, "I don't have time to figure out all those different holidays!" Well, I'm here today with an easy way for you to celebrate Father's Day and World Oceans day. All that's left now is getting your dad (or whoever) a memorable adventure and the month is a win!
Adopt-a-Cat Month – #adoptacat
Great Outdoors Month – #greatoutdoors
Men's Health Month – #menshealthmonth
Pride Month – #pridemonth
World Infertility Awareness Month – #infertilityawareness
June 1: National Running Day – #nationalrunningday
June 3: National Doughnut Day – #doughnutday
June 4: Hug Your Cat Day – #hugyourcatday
June 4: National Cheese Day – #nationalcheeseday
June 4: World Bicycle Day – #worldbicycleday
June 5: World Environment Day – #worldenvironmentday
June 5 – 11: Pet Appreciation Week – #petappreciation
June 6: D-Day – #dday
June 7: National Chocolate Ice Cream Day – #chocolateicecreamday
June 8: National Best Friends Day – #bestfriendsday
June 8: World Oceans Day – #worldoceansday
June 10: National Iced Tea Day – #nationalicedteaday
June 11: National Rosé Day – #nationalroséday
June 12: National Children's Day – #nationalchildrensday
June 13 – 19: Men's Health Week – #menshealthweek
June 14: National Bourbon Day – #nationalbourbonday
June 14: National Flag Day – #nationalflagday
June 14: World Blood Donor Day – #worldblooddonorday
June 17: National Flip Flop Day – #nationalflipflopday
June 17: Wear BLUE Day – #wearblueday
June 18: International Picnic Day – #picnicday
June 19: Father's Day – #fathersday
June 19: Juneteenth – #juneteenth
June 20: World Refugee Day – #worldrefugeeday
June 21: First Day of Summer – #summersolstice
June 21: World Music Day – #worldmusicday
June 23: National Pink Day – #nationalpinkday
June 24: Take Your Dog to Work Day – #takeyourdogtoworkday
June 27: National Sunglasses Day – #nationalsunglassesday
June 30: Social Media Day – #socialmediaday
Social Media Content Going Forward
With so many posts to make every day, it's hard for businesses and marketers to keep up. But with the right tools, you can create content easier and more consistently. At zindolabs.com we'll show you how to create social media content consistently so you can focus on other parts of your business, stop feeling guilty, and start seeing some growth.
---
If you want to learn how to take the stress out of creating social media, head over to zindolabs.com.